Orange Geranium Beard Oil
30ML / 600 DROPS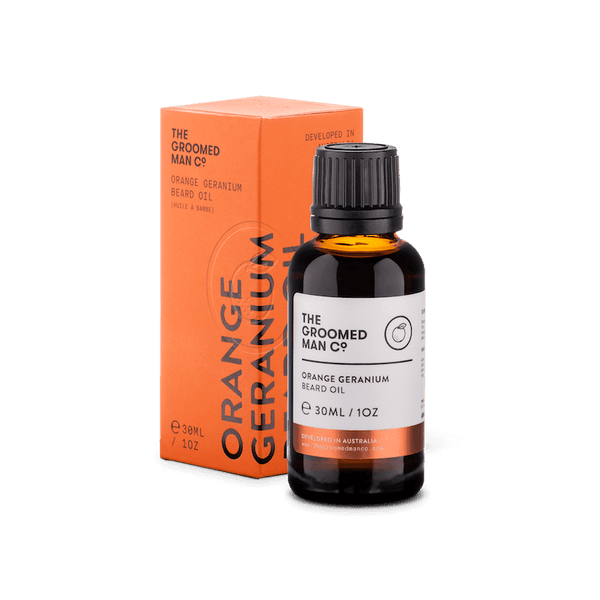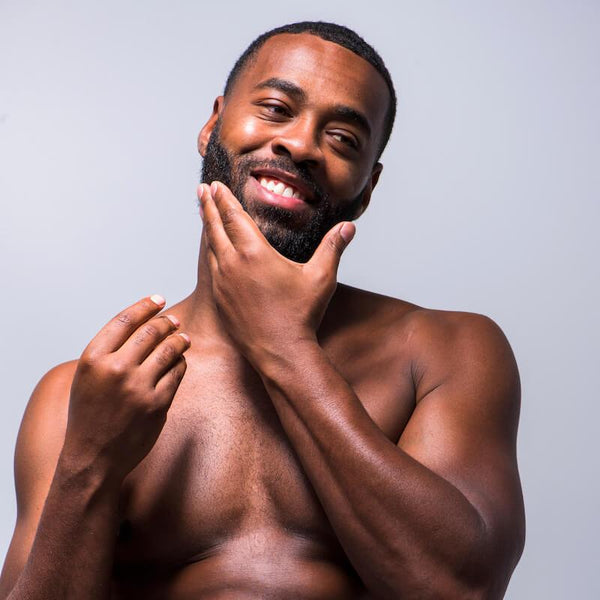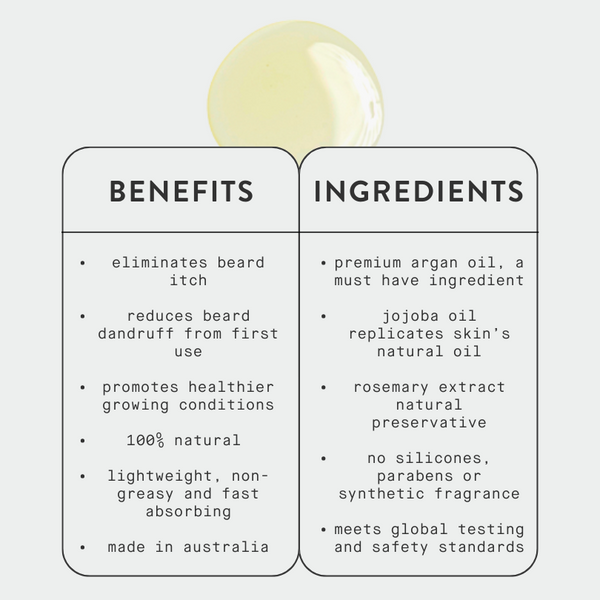 Beard oil fixes dry, itchy and flaky beards. Promotes healthy beard growth
Geranium Leaf, Sweet Orange and Patchouli
Who says geraniums can't be manly? This is our Orange Geranium Beard Oil, a fruity, floral blend of sweet orange, geranium leaf, patchouli and rosemary. It's lightweight and non-greasy, and it's packed with Argan and Jojoba oils (for softness), Sweet Almond oil (for magnesium and zinc) and a few drops of pure Australian essential oil (for nose happiness). 
or make 4 interest-free payments of $6.25 AUD fortnightly More info
You can use Orange Geranium Beard Oil on your hair, skin, feet, eyebrows, whatever. It's an all-round hair and body oil. Just squeeze a few drops, rub them into your hands, and work the oil through your beard. If bees try to pollinate you, shoo them away gently. It's not their fault you smell delicious.
What does beard oil do?
Beard oil is a grooming product that is used to moisturise and condition the skin and hair of the beard. It helps to hydrate the skin and hair, which can reduce itching and flaking and make the beard look and feel softer, stronger, and more manageable. Beard oil can also help to nourish and promote healthy growth of the beard, by providing the hair with natural oils and other beneficial ingredients. Additionally, beard oil can also help to tame frizzy hair and flyaways, which can give a beard a more polished and well-groomed appearance. It can also be used to add a subtle shine to the hair.
Orange Geranium Beard Oil: Argania Spinosa (Argan) oil, Simmondsia Chinensis (Jojoba) oil, Prunus Dulcis (Sweet Almond) oil, Citrus Sinensis (Sweet Orange) oil, Pelargonium Graveolens (Geranium Leaf) oil, Pogostemon Cablin (Patchouli) oil, Rosmarinus officinalis (Rosemary) extract
Try a few drops on your face, before you go to sleep. It'll nourish and protect your skin.
Less is more with beard oil. Two or three drops is all you need.
Orange Geranium Beard Oil is vegan-friendly. It was tested on human beards.
key ingredients
JOJOBA OIL
Jojoba Beard Oil does so many good things for your beard and skin. It's a natural humectant, which means it prevents infections, locks in moisture and helps fight acne. It's antibacterial and antimicrobial. And it's loaded with antioxidants like Vitamin E, to keep hair looking soft and healthy.
ARGAN OIL
Argan Beard Oil is known in the hair care industry as 'liquid gold'. It's made from the kernels of the Moroccan Argan tree, and contains fatty acids like oleic and linoleic acid. This is the stuff that nourishes your beard and locks in moisture. It's great for dry and flaky skin, too.
ESSENTIAL OILS
Orange Geranium Beard Oil uses pure botanical essential oils, grown and sourced in Australia. It's a refreshing floral scent, with citrus bursts of sweet orange, notes of geranium and patchouli, and an earthy undercurrent of rosemary. Guaranteed to impress your mum. Try this unique beard oil scent today!
GERANIUM FOR YOUR CRANIUM.
Absorbs easily into your beard without any oily residue.

Strengthens the hair and prevents flakes, split ends and dandruff.

Made from sustainably sourced, all-natural ingredients, so it's great for sensitive skin.
Orange Geranium Beard Oil
or make 4 interest-free payments of $6.25 AUD fortnightly More info